Serves:
4
Preparation time:
two hours
---
Ingredients
INGREDIENTS GROUND OLIVE CRUMB WITH ORGANIC FLOUR AND ORGANIC SEMOLINA
About 4 ½ tablespoons organic re-milled semolina
6 ½ tablespoons organic flour
About 20 pitted black flavorful olives such as Kalamata, etc
About ¾ cup stale white breadcrumbs
INGREDIENTS FOR THE RED PEPPER REDUCTION
4 ½ lbs red bell peppers, stems and seeds removed, sliced or coarsely chopped
olive oil, as needed
1 garlic clove, lightly crushed
INGREDIENTS FOR THE VERJUICE GEL
½ teaspoon powdered agar agar
½ cup verjuice
INGREDIENTS GARLIC MAYONNAISE
1 hard boiled egg yolk
1 whole raw egg
1 garlic clove, grated
¾ cup grapeseed oil
INGREDIENTS FOR THE TARTARE
4 ½ ounces beef fillet
4 oysters, cleaned and minced/finely chopped
About 3-4 pitted, chopped Taggiasca black olives
¾ tablespoon chopped capers
2 ½ teaspoons chopped anchovies
3 1/3 fl oz garlic flavoured olive oil
Maldon salt, to taste
anchovy powder, to taste
red bell pepper powder, to taste
caper powder, to taste
olive powder, to taste
Method
Combine the organic semolina and organic flour in a bowl.
Dip the black olives in this mixture, then place on a baking tray and bake for 10 minutes at 250°F. Remove from oven.
Blend the stale breadcrumbs, then add the baked olives, and pulse until it reaches the consistency of a crumb.
Set the mixture aside to use for the final plating.
METHOD FOR THE RED PEPPER REDUCTION
Sauté the red peppers in a pan with a drizzle of oil and the clove of garlic; when softened, cover with water and cook gently—i.e. simmer– for about thirty minutes.
When peppers are soft, blend the mixture and strain them through a cheesecloth.
Place this liquid in a saucepan, and over low heat, reduce the liquid until it forms a sauce.
METHOD FOR THE VERJUICE GEL
In small saucepan, dissolve the agar agar in the verjuice then bring it to a boil.
Set aside to cool; when cool, blend or stir well with a spoon to make it smooth.
METHOD FOR GARLIC MAYONNAISE
Put the eggs in a blender with the garlic, then emulsify, slowly adding the grapeseed oil to obtain the garlic mayonnaise.
METHOD FOR THE TARTARE
Mince the beef fillet, using two knives or a mincing machine, then season it with the previously-minced oysters, olives, capers, anchovies, garlic oil and Maldon salt to taste.
Place the tartare in the centre of each plate, decorate the plate with a few drops of verjuice gel and garlic mayonnaise, decorate with the powders, and finally add the reserved black olive crumb and the red pepper reduction.
Enjoy to Angelo Carannante!
Angelo Carannante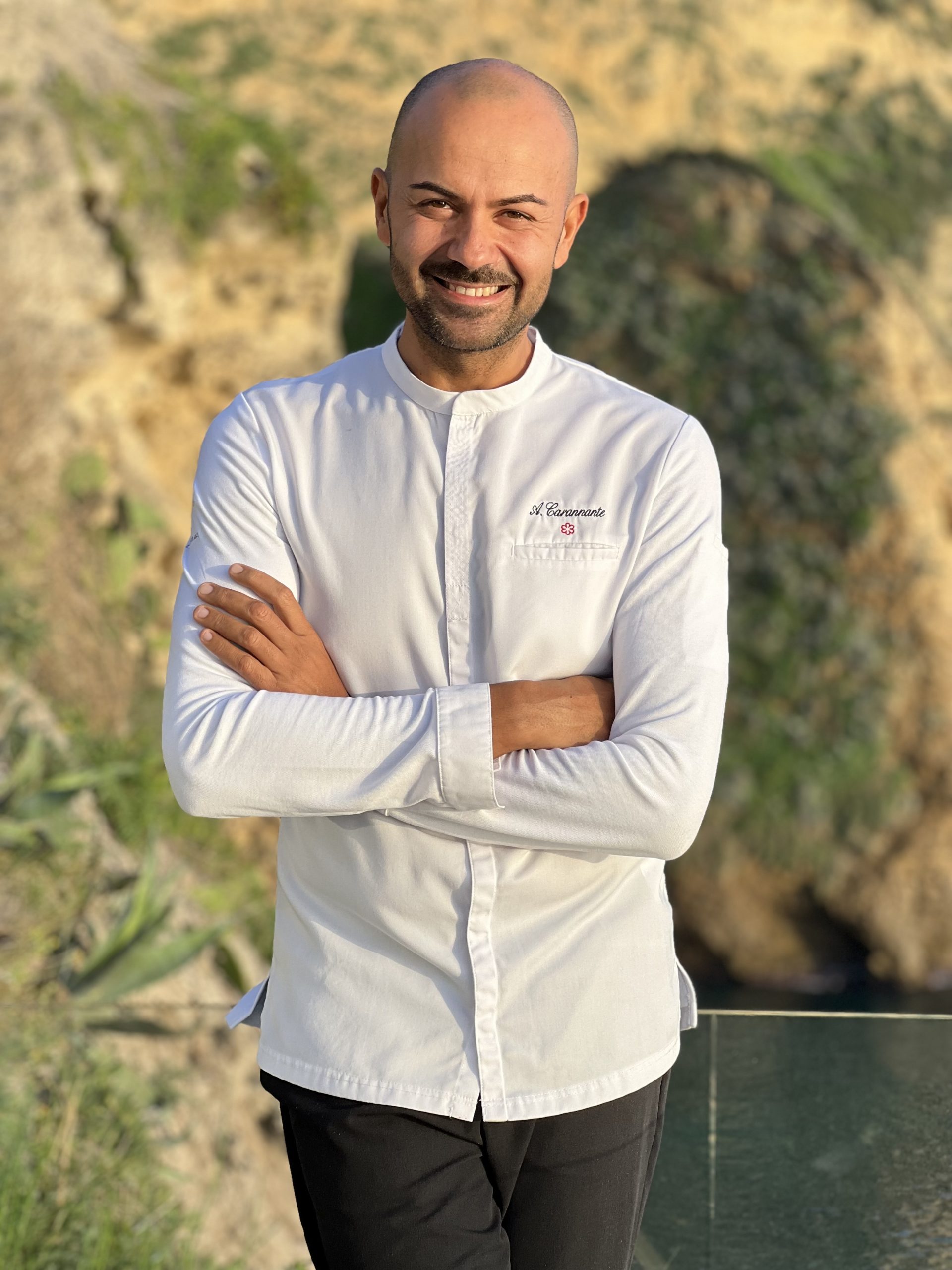 With a Michelin star since 2019, Angelo was born with a passion for cooking. Son of a fishing family, he has a strong relationship with the sea and the area where he comes from: the Campi Flegrei. He trained with chef Giuseppe Daddio which meant he has worked in many famous restaurants. Then he worked as a sous chef with the pluri-Michelin starred chef Paolo Barrale and for some years at the Grand Hotel Excelsior Vittoria in Sorrento as sous chef of chef Luigi Tramontano. In 2016 he opened Caracol in the Campi Flegrei, finally returning to work in the place where he was born and where he earnt his Michelin Star three years later.