---
Ingredients
INGREDIENTS FOR THE ORGANIC FLOUR AND ORGANIC SEMOLINA CRUMBLE
3 ½ tablespoons butter
6 ½ tablespoons organic Italian type 0 flour
1 ½ ounces ground almonds
1 tablespoon organic re-milled semolina
a few grains of fleur de sal
1 teaspoon pasteurized caviar
INGREDIENTS FOR THE CHOCOLATE ICE CREAM
2/3 cup water
1 ¾ cups sugar
4 egg yolks from large eggs (or 5 from medium eggs)
2 cups whole milk
1/3 cup bitter cocoa powder
1 ¼ teaspoon carob powder
4 ¼ ounces 75% dark chocolate
INGREDIENTS FOR THE WHITE CHOCOLATE MOUSSE
8 oz white chocolate
1 teaspoon isinglass
½ cup whole milk
1 cup heavy or whipping cream
Method
METHOD FOR THE ORGANIC FLOUR AND ORGANIC SEMOLINA CRUMBLE
Combine all of the ingredients in a stand mixer and mix until it forms a dough.
Wrap the dough in plastic wrap and put it in the refrigerator for about fifteen minutes or as long as needed to firm up.
When it is firm, crumble it onto a baking tray and bake at 325°F for 8-10 minutes.
Remove from the oven, set aside and leave to cool.
METHOD FOR THE CHOCOLATE ICE CREAM
Combine the water and sugar in a saucepan, stir well and simmer until it forms a syrup.
As soon as it comes to a boils remove from the heat and let it cool.
Place 1 cup of the cooled sugar syrup in a saucepan and mix I the egg yolks, milk, cocoa powder and carob powder, then heat until it reaches the temperature of 140°F.
Add the chopped dark chocolate, then heat together until it reaches 185°F.
Leave to cool and rest, then refrigerate it until chilled.
Place the chilled mixture in the ice cream machine; it will be ready in about thirty minutes.
METHOD FOR THE MOUSSE
Soak the isinglass in a little water.
Heat the milk In a saucepan until it boils, then add the soaked isinglass.
Melt the chopped white chocolate in the microwave or in a bain-marie, then pour the hot milk over it, mixing well.
When cooled, leave it to chill in the refrigerator.
TO SERVE
Take a dessert plate, place some crumble as a base for the "caracolato" dessert.
Use a spoon to scoop the ice cream to form a quenelle or a slightly oval scoop, and place it on the crumble, then add the mousse using a ring to make a round shape. Its ready to serve!
Enjoy to Angelo Carannante!
Angelo Carannante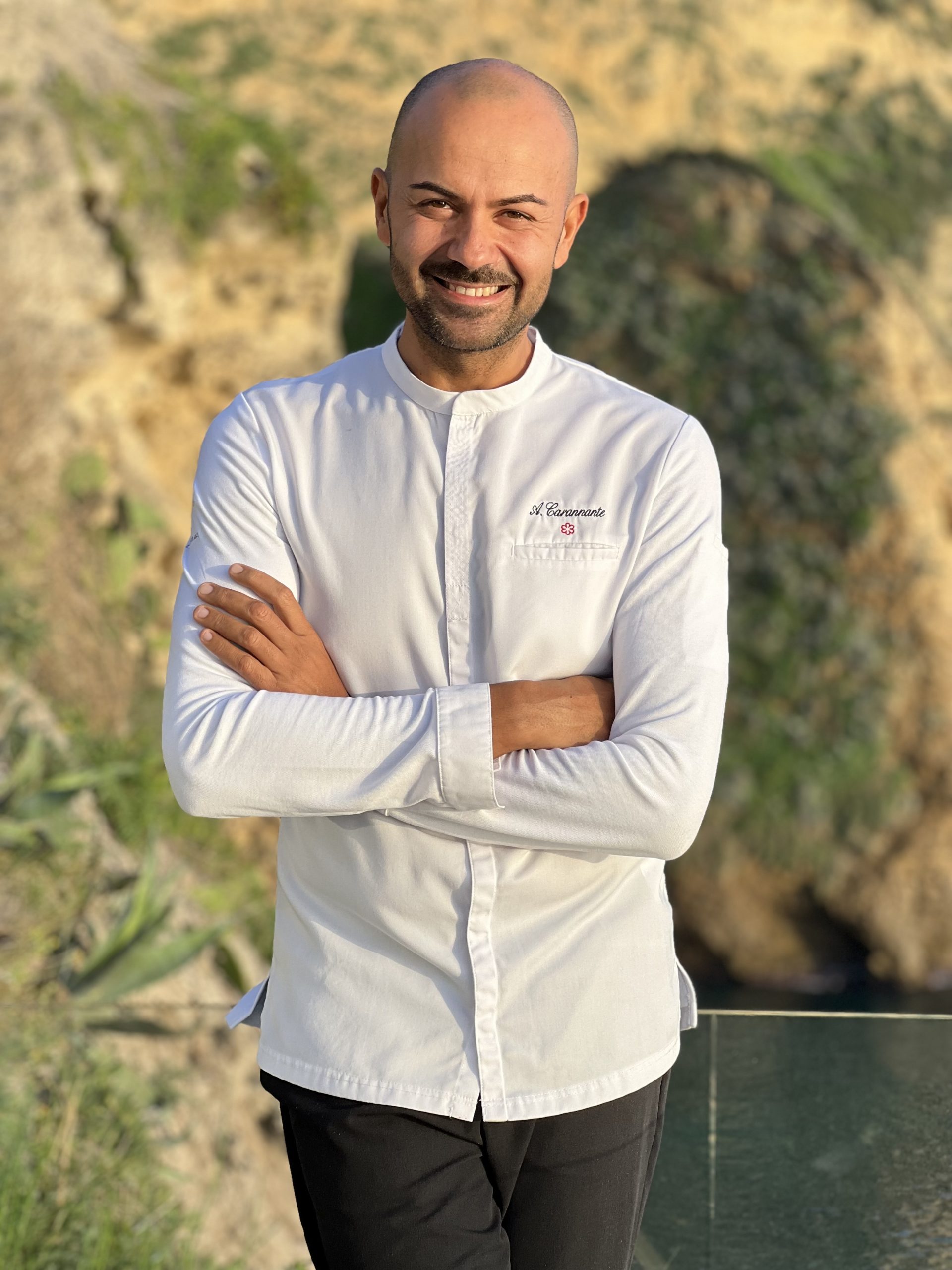 With a Michelin star since 2019, Angelo was born with a passion for cooking. Son of a fishing family, he has a strong relationship with the sea and the area where he comes from: the Campi Flegrei. He trained with chef Giuseppe Daddio which meant he has worked in many famous restaurants. Then he worked as a sous chef with the pluri-Michelin starred chef Paolo Barrale and for some years at the Grand Hotel Excelsior Vittoria in Sorrento as sous chef of chef Luigi Tramontano. In 2016 he opened Caracol in the Campi Flegrei, finally returning to work in the place where he was born and where he earnt his Michelin Star three years later.